Product Description
Walk-In Cooler
Our walk-in cooler refrigeration units are built to the specific needs of our customers. Each panel has been designed to provide quick and easy assembly. To ensure that the locking mechanisms and panels join correctly, our walk-in coolers are pre-assembled at our manufacturing facility. After testing your walk-in cooler, the panels are then packaged to ensure they are safe throughout the shipping process.

The walk-in coolers we sell are built to spec and set at the highest industry standard. If you own convenience stores, dollar stores, grocery stores, or warehouse club stores, our products offer the perfect solution to your needs.
Explore All Walk-In Cooler Sizes
Frequently Asked Questions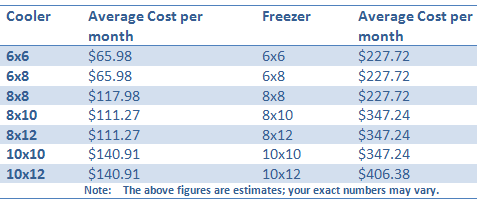 *These numbers were figured using the $.0999 kilowatt hour cost. According to the Energy Information Administration this is the average cost in the United States for commercial electricity.
This chart was created using several assumptions that can affect your actual operating cost.
The type of insulation in the walk-in
Efficiency of the refrigeration system.
Inside and outside temperature of walk-in.
Where the walk-in is located.
the temperature and the weight of the product entering the walk-in.
How often the door is opened.
The age of the walk-in.
Cost of electricity
This is just to name a few. Actually over a hundred factors are considered when sizing refrigeration systems for a walk in. Most walk-ins are designed to run 80% of the time or between 16 and 18 hours per day. For more information on this topic and a more accurate estimate, view our operating cost article.
Most users do not understand that they can lower the cost of operating their units if they do some very simple things. First, if initial costs are not an issue, purchase your walk-in cooler or freezer with polyurethane insulation. It is one of the best insulations in the market for walk-in coolers or freezers. Next, do some simple things such as order your walk-in with strip curtains to lower heat gain to the walk-in when loading or walking into the unit. You need to work with your refrigeration service technician to set the minimum required defrost cycles for your specific needs. Step inside the walk-in once a month and check for any light coming from around the door, refrigeration systems, electrical connections and other penetrations in the panels. If light is found, contact your local service technicians to correct the issue. Periodically check door gaskets and door sweeps for wear. If wear is evident have your dealers replace the worn part. Have regular maintenance of the refrigeration system by a licensed refrigeration technician.
International Coolers has a nation-wide service network to service their walk-ins and refrigeration systems. Call your in-house sales representative for the service dealer near you.
Drawings & Specifications
Go to our engineering specifications page and choose which format you want for our complete specifications.
We weigh each walk-in before shipment to get the exact weight. But you can figure an estimated weight by taking the surface square footage of the walls and ceiling times 2.4, then add the floor surface square footage if included times 3.15 add these two numbers to 220 pounds for the door and you will get an estimate of the walk-in weight. Add 130 pounds to this weight for an 8'6″ pallet and you will get an estimate shipping weight.